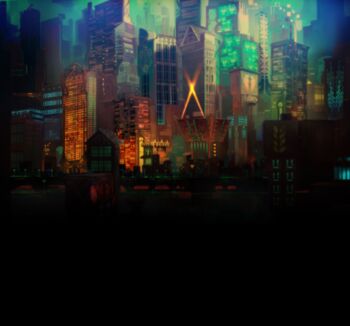 The City of Cloudbank is the major city in which the majority of Transistor takes place, and is the home city of Red. A densely populated urban area, Cloudbank is lined with massive towers and bright lights. The city itself is composed of multiple layers, connected by bridges and staircases, and suspended roads and highways serve to connect larger districts and byways. The city is a compilation of various design styles, though the use of an equilateral triangle seems to be dominant in many of the districts.
Accessible only by air or sea, Cloudbank's most secluded and beautiful getaway deserves to be seen by all! With sufficient support, a petition would create a walking bridge to connect the southeast edge of Goldwalk Bay to Fairview Island. Fairview would be just a relaxing seaside stroll away! Additional traffic by foot and small motor vehicles expected to have a negligible impact on local commerce.
For specific Locations in Cloudbank, see Locations.
Screenshots