Jurassic World: Dominion Dominates Fandom Wikis - The Loop
Play Sound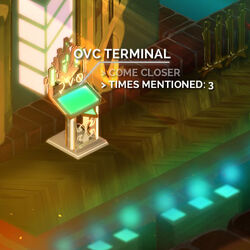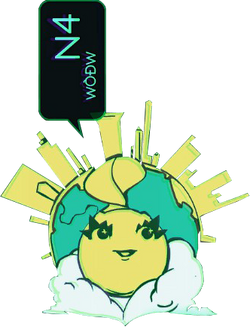 The OVC Terminal are locations on the map which when activated enable you view daily updates that are happening in The City of Cloudbank, as well as to make adjustments, order food and more!
Some OVC Interactions
Hungry? Grab a Bite!
Satisfy your craving with a complimentary Junction Jan's Gourmet Flatbread!
Posted 06-26-67 19:40 by Junction Jan's
Please select your meal preference:
SUPREMO DELUXE
HARVEST GARDEN
SEA MONSTER
MYSTERY JAN'S
Blue Skies are a Choice
Help create an unforgettable quarterly solstice by choosing your favorite evening sky color!
Posted 06-27-67 04:41 by Highrise Community Forum
Popular color choices in the Highrise district:
COBALT BLUE
DEEP RED
SEA GREEN
BURNT ORANGE
(Accessing the terminal Transistor says "The sky looks blue because we want it to.")
(Upon selecting 'Cobalt Blue', Transistor responds "See?"; 'Deep Red', "Still the best."; 'Sea Green', "Green!? Nice."; and 'Burnt Orange' "Orange? Okay.")
URGENT: Immediate Response Requested
Your input is needed to expedite relief in case of emergency.
Posted 06-28-67 02:01 by Cloudbank Central Authority
Central Authority urges all individuals to provide relocation preferences as soon as possible.
NARROW SEARCH - HIGHER QUALITY
WIDE SEARCH - MORE RESULTS

URGENT: List of Known 'Process' Symptoms
Are you or anyone you know experiencing any of the following?
Posted 06-28-67 03:19 by Cloudbank Central Authority
Known Symptoms of Process Infections
SKIN PALLOR
FEVER
FORGETFULNESS
FATIGUE
(Upon selecting 'Forgetfulness', Transistor remarks that "You never forget."; 'Skin Pallor', "You look fine."; 'Fever', "I hope you're joking."; and 'Fatigue' "You just need a rest.")

Monstrosity Attacks Bracket Towers
Eyewitness reports confirm presence of a massive organism in downtown Cloudbank.
Posted 06-28-67 01:33 by Amelia Garbur, Associate Editor
DEVELOPING
A huge serpentine creature was seen clinging to Bracket Towers South in the Highrise district early this morning, amid spreading panic and devastation caused by the Process outbreak ravaging the city. Administration warns that the creature is extremely dangerous and is to be avoided at all costs. The 18th Precinct is launching a full-scale effort to draw the creature away from populated centers. Any residents remaining in Highrise are urged to leave the area immediately.
[Post Comment?] (results in a brief conversation between Red and Transistor)
> Hey. It's me. It's me. Are you still there? Answer me.
"Red, I...what...?
> Look we're going to get ourselves out of this OK?
"OK...OK...I...yeah.
> Hold on you just try to hold on all right?
"I'm trying...I'm trying..."
> Hold on, you have to hold on, I'm going to.........
(Red deletes this comment)
"Go get 'em..."
> I'm going to find the thing that's doing this and I'm going to break its heart.
"I believe you..."

Red, 27, Mourned as 'Process' Toll Climbs
Vigil held for popular musician after she vanished in the week's catastrophic outbreak.
Posted 06-28-67 09:88 by Amelia Garbur, Associate Editor
IN MEMORY
One of Cloudbank's most influential voices has gone silent amid the 'Process' epidemic spreading through the city unchecked. Red became active as a musician from a young age, though her popularity surged in recent years, as her songs consistently charted in the top tenth percentile for the past five years according to OVC data. While Red is but one of thousands of disappearance this week, thousands more gathered to honor her life and her music on the eastern perimeter, as the sound of her voice cut through the darkness.
[Post Comment?] (results in a brief conversation between Red and the Transistor)
> None of this is coming through anymore is it...
"I think you're right."
> Though you still hear me don't you....
"Of course. Of course I do."
> You're all I have.
"Red..."
> There has to be (Red deletes this comment, then starts over)
> There has to be a way to get you out of there.
"We'll figure it out when we get there.
> Yes we will.
Farewell to Cloudbank
One reporter's eyewitness account of the city's final hours.
Posted 06-28-67 by Amelia Garbur, Associate Editor
EDITORIAL
As I stand here on the eastern perimeter awaiting the inevitable, I am surrounded by my community, and I am at peace. It has been my honor and my privilege helping spread the news of the day among the people of this city, and my only regret is having no more time to share with you all. To the west I see nothing, and to the east there is nothing, and so we wait, together, shoulder to shoulder. We will not leave our fair city under any circumstance. I suspect even the Process has figured that out by now. Farewell.
[Post Comment?]
> ....Is everyone
"How about we get out of here..."
(Red deletes most of her comment) > ...
Junction Jan's is Closing its Doors
Circumstances beyond our control! Have one last flatbread -- on the house!
Posted 06-28-67 01:00 by Junction Jan's