Jurassic World: Dominion Dominates Fandom Wikis - The Loop
Play Sound
Royce Bracket is an engineer that lives in the Fairview District of Cloudbank. He is responsible for much of the city's design, and all of its changes throughout the years. It is revealed that he used the Process to make these changes. He worked closely with Grant Kendrell, with the two eventually becoming the initial members of the Camerata. Red communicates with him first via robot proxy before reaching his lab, where they work to free Cloudbank of the Process infestation.
Background
Once there was a great engineer. Arithmetic was his medium and a city was his canvas. He planned the roads, buildings, and byways. His work could not be more precise. Like everyone in Cloudbank, he served at the pleasure of the city's people. The city changed quickly and often, reconfiguring to best suit the contemporary sensibility. Thus the engineer's work was ephemeral. He loved his craft, but could not let himself become attached to the product of his effort.
Findings
Because the engineer's work was never done, it stayed fresh. With new whims came new challenges. Bridges. Gardens. Towers. Ports. None of it lasted very long. The nature of his work led him to notice certain patterns over time. The will of the people changed in cycles. Bridges would come down in favor of railways. Railways would give way to parks. New bridges would then be build upon the parks, and so on. Recognizing this, the engineer started fashioning avant garde structures and designs he believed would persist beyond the immediate urges of the population. Yet, these ideas proved much less popular, and before much longer he became obscure, and left his job to pursue personal interests on his own. It was then that he discovered a formula visualizing exactly how the structures of Cloudbank formed.
Travels
He studied this formula closely for it filled him with a deep sense of wonder and even deeper sense of dread. He developed predictive algorithms to determine where and when the visualization would take form, and began drawing it out with his own architectural plans, until one day he found it in its natural state. He saw beyond the confines of the city into something more, and there before him was something extraordinary. He took it, and realized the things he saw now stood at his call.
Function: Flood()
Age: 37
Gender: M
Selections: Engineering, Mathematics.
Reasons Cited: Declined.
Trace Status: Recorded.
Meeting Royce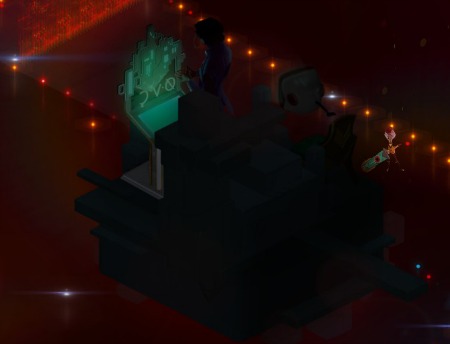 (Warning: Spoilers!)

Red is able to meet Royce in-game at his studio in the Fairview District. At this point, he has offered his assistance in getting rid of The Process, provided that Red agrees to use The Transistor to do so. It's revealed that Royce discovered the Process, and used them to change the city as the citizens saw fit. Whenever the people wanted a new bridge or park, whether they wanted to change the color of the sky or build roads, The Process was what allowed these changes to happen. But without direction from Royce or Grant Kendrell, who planned to use The Transistor to manipulate the Process, the creatures have run rampant and aimless. In order to stop the Process from infesting Cloudbank, or from doing their job, as Royce puts its, Red must put the Transistor in a device called The Cradle.
Upon releasing The Transistor, however, both Red and Royce are pulled into the device. Royce is certain they can find a way out -- but only for one of them. Armed with a Transistor of his own, he states that there is only one way back, and begins a duel with Red, using the same tactics and Functions she has been using against The Process. The two battle for the ability to exit the Transistor and Red wins, leaving Royce trapped inside.

(End spoilers!)
Trivia
By the time that Red meets Royce, it seems as if he was suffering from mild effects of what the city called 'Process Illness', repeating words in the way that The Transistor had been when it was close to the Spine, but this might be attributable to a quirk of Royce's (as many of his notes on the Process are written in a similar manner), or the duress of being surrounded by the Process.
In contrast to his mannerisms of unemotional verbal speech, Royce types rather informally. All of his unlockable notes and OVC messages in the

Fairview district

are written without capitalization and are far less guarded (and far shorter and succinct) than his monologues with Red. Given Royce's preference for solitude as outlined in his messages and darkened studio, Royce may be at his most comfortable with people when he can have some space to plan out something approximating casual speech.
When Red and Royce duel, Royce's Turn()s feature more prominent volume on the bass guitar, in contrast to Red's humming. Royce's studio soundtrack is a bass guitar solo. During Turn(), Royce's field circles are orange instead of teal which match the color of his studio.