Jurassic World: Dominion Dominates Fandom Wikis - The Loop
Play Sound
Sybil is described by the Transistor as being the "eyes and ears" of the Camerata. She seems to be the most social member of the group by far. She also appears to have had an obsession with Red for some time, and her subsequent attempts to get closer to Red are arguably the trigger for the events of the game.
Background
Known in elite social circles throughout Cloudbank, Ms. Sybil Reisz organized many of the city's popular public events, from ground-breaking ceremonies to contemporary festivals. She was everywhere, and yet somehow she made time to lead a second, hidden life. As one of the Camerata, Ms. Reisz was responsible for gathering information about potential high-value targets, people who could contribute to their cause. She did this job to perfection, drawing no notice, though one target in particular caused her much frustration.
Meeting Red
Ms. Reisz met Red while putting together a small program for up-and-coming artists, and became infatuated first with Red's music then with her. According to diary entries there was something inscrutable and confident about Red that Ms. Reisz could not explain. However, Ms. Reisz was frustrated to find that Red grew distant. Through all this, Ms. Reisz observed the aloofness of one of Red's companions, and decided he must have been insinuating Red against her. Ms. Reisz thought through various ways to rectify this.
Recommendations
One night Ms. Reisz nominated Red as a target for her Camerata colleagues, citing Red's surging popularity in the city and her unusual set of selections. Red could substantially advance the Camerata's agenda, and was not yet so ubiquitous that her sudden disappearance couldn't be sufficiently disguised. Ms. Reisz promised that the Camerata could get to Red at a time when she would be completely alone. Trace data reveals an 85% chance she falsified this claim.
Function: Help()
Age: 30
Gender: F
Selections: Supervision, Organization.
Reasons Cited: 'I love people!'
Trace Status: Integrated.
The Encounter at Goldbank Auditorium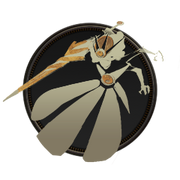 Despite Sybil's perfect record in scoping and spying the Camerata's assimilation targets, her emotions and obsession for Red ultimately led to her downfall, directly triggering the beginning events of the game. While Sybil's sexuality is never directly addressed, it is heavily implied that Sybil was in (unrequited) love with Red, based on her trace data, behavior and dialogue during the boss battle, and the lyrics to In Circles (which plays during the battle). She lied to her associates about Red being alone to try to get rid of Red's lover.
While her plan succeeded (against the cabal's wishes), the Camerata lost control of The Process. Either distraught by the outcome or foolishly believing that her relationship would somehow pan out, Sybil waits for Red at the Auditorium, where The Process eventually takes her. When Red finally encounters Sybil at the auditorium, Sybil has been 98% processed and is almost completely insane as a result. Sybil lashes out and attacks Red. She ultimately fails in the ensuing fight and is defeated. Following her defeat, Red absorbs Sybil's trace into the Transistor and discovers the whereabouts of the three remaining Camerata members, and she heads downtown to the High Rise.
Trivia
If the player waits before starting the fight with Sybil , if the player listens closely Sybil is heard muttering the first three lines of "We all become" after Sybil says Red's name 3x.

This doesn't show up in the subtitles if the player has them on.
Upon initially encountering Sybil in-game, she is humming "We All Become."
Sybil has several unnerving lines of dialogue while fighting Red, including:
"Red..."
"You are here, you are here, you are here, I knew you'd return, I knew, I knew..."
"Help us, help us, help us, won't you, we only wanted your help..."
"Alone, alone, alone, I told them you'd be alone, I told them..."
"You knew, I would wait, I would wait, I would wait for you..."
"We had you, we had you, we had you..."
"That voice, that voice that voice, we killed him, we killed him, we killed..."
"The Process cannot be stopped, cannot be stopped, cannot be stopped..."
"Your voice, it is gone, it is gone, it is gone..."
"Give it back, give it back, give it back..."
It's not yours, it's not yours, it's not..."
"I saved you, I saved you, I saved you, I always, I always wanted to..."
"Get out, get out, get out..."
"We're not finished, not finished, not finished..."
"Look at me, look at me, look at me, Red, can't you see..."
"When everything changes, nothing changes, nothing changes, nothing..."
"You're hiding, you're hiding, you're cheating..."
"Where are you, where are you, come back ! Ah, there, there, there..."
"Why hello, hello, hello..."
"The Transistor, Transistor, Transistor..."
"Transistor, Transistor, Transistor..."
"How dare you, how dare you, how dare..."
"Welcome back, welcome back, welcome..."
(Upon death) "Finally, finally, finally, we can be..."
If the player listens closely, they can hear Sybil's last words are actually "can become one", which are not captured in the subtitles.
After absorbing Sybil into the Transistor, Red begins to encounter Backdoors throughout Cloudbank. The Backdoors lead to a digital beach Sandbox which inside contains a parasol similar to Sybil's, a pillow in the Camerata color scheme and a music player of Red's songs, implying that it used to be Sybil's personal space.